Quality since 1905
Household appliances made in Germany
ritterwerk was founded in 1905 by Franz Ritter. Since then, as a traditional Bavarian company, we have been developing and manufacturing tabletop and built-in household appliances that make everyday kitchen life easier. These include above all food slicers, but also toasters, kettles, hand blenders, coffee machines and many built-in appliances. We are particularly distinguished by the fact that all our household appliances are still and exclusively produced in Germany.
ritterwerk
About us
It all began in 1905 in a small garage at the fringe of Munich. Franz Ritter founded his ritterwerk. Franz Ritter at first developed knife cleaning machines, which were of great importance at times when there were no stainless steel yet. With this device knife blades could be cleaned from rust. The knife cleaning machine by ritter was sold over 1.000.000 times until stainless steel was introduced to the market.
The foundation for its success was laid almost 30 years later by building the first bread-slicing machines. Some of these formerly modern machines are still in use now, more than 70 years later. A pioneering tradition of slicing - from the long-familiar manual slicer to the electrical slicer and finally to the suspended and inclined construction.
More information
Desgin and values
ritterwerk and Bauhaus tradition
ritterwerk, with a history dating back more than 100 years, is also a contemporary of the Bauhaus movement, which has its origins in the Bauhaus school of art and design existing in Germany between 1919 and 1933. The Bauhaus was the twentieth century's most influential school and workshop of design.
The company was already established when the Bauhaus began its work. In the 1930s, ritterwerk began producing its slicing machines. From 1967 to 2005, this activity was performed under the direction of designer Karl Dittert (*1915), who follows directly in the tradition of the Bauhaus.
More information
Philosophy
Sustainability and reparabilitiy
These two topics have always been emphasised at ritterwerk - since the success story began when the midsize enterprise opened its doors in Sendling in 1905. Two world wars, a protracted shortage of raw materials and the many changes in the industry over time have not altered this in the least.
See more
Responsibility
Environmental Care
Our company-owned photovoltaic plant does contribute our active share to save carbon dioxide and thus helps to protect the environment.
A further step is saving energy by using ECO motors for our multislicers.
Furthermore, we carefully observe regulations and restrictions - such as RoHS, WEEE, REACH and VerpackV - protecting our environment as well as the health and safety of our fellow people.
For ritter, high sense of responsibility on economic, ecological and on social level is a matter of course.
More information
Career
Working at ritterwerk
We are a successful company with a long tradition in the small electrical appliance sector, which can proudly look back on a history of over 100 years. As a medium-sized company, we develop and manufacture table-top and built-in household appliances that make everyday kitchen life easier.
If you want to work in a medium-sized company without constricting corporate structures and if appreciation, respect and recognition are important to you, then find out about vacancies and open training positions on our career pages. We offer you an interesting, future-oriented working environment in a positive, open-minded working atmosphere.
More information
Social responsibility is of great importance to ritterwerk. And requests for donations of all kinds do not come last to us. However, with the amount of requests for support, it is not possible for us to help unlimitedly and everywhere. Since help and support are needed everywhere, we had to find our own way of doing this.
After careful consideration and review, we decided to support one global and one local organisation long term, the "WWF Germany" and the " Social Youth Foundation from Dr. Rieder's family".
The "WWF Germany" stands for the preservation of intact nature and biodiversity, which are essential for our planet. As a "Global 200 Protector" we help to preserve the most important ecoregions on earth.
The Social Youth Foundation of the Dr. Rieder Family in Gröbenzell is committed to helping children and young people in social need. Young people from Gröbenzell and surrounding areas are offered a new perspective through optimal support.
ritterwerk practices quality management according to the European Foundation for Quality Management (EFQM).
Fourteen leading European companies from different industries founded the EFQM in 1988 as a non-profit organisation on a membership basis.
The EFQM founders asked themselves the following question: "What are the decisive fields of action that determine the success of any organisation, regardless of a specific industry?"
The answer to this question led to the development of the EFQM model: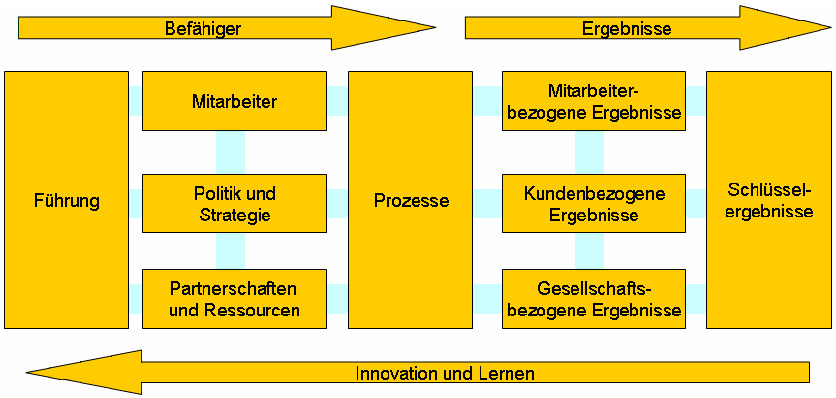 On the left, the facilitators provide the foundations for excellent results. At this point, every organisation needs concepts and procedures tailored to its own business, which are implemented with consistency in day-to-day business.
On the right side, the results show the effects of the activities carried out. Similar to the Balanced Scorecard, the key results (financial and process indicators), customer and employee satisfaction as well as the company's public image are considered. This also provides a view into the future of a company.
Thanks to the loop of innovation and learning, the current development of results flows into future entrepreneurial action by the facilitators.
Today, the EFQM model is used throughout Europe by small to large enterprises, production and service companies, profit and non-profit organisations as an instrument of comprehensive corporate management.
Over the course of the last few years, the philosophy of this model has also impacted the revision of the DIN EN ISO 9000 ff. families of standards that are valid worldwide today.
The internationally recognised EFQM model, which has been tried and tested for over 20 years. And therefore used for the revision of our quality manual.
Using this method, our company was thoroughly analysed from June to July 2008
The focus of this quality manual is on the description of the areas and processes at ritterwerk that have an influence on the topic of "quality".
The "ideal processes" are described first, followed by the "error processes".
The term 'CSR' or 'Corporate Social Responsibility' describes the voluntary contribution of the economy to a sustainable development beyond the legal demands.
ritterwerk does meet such social commitment and hereby confirms application of the economic, ecological and social principles and values, as described in the attached 'ZVEI - Code of Conduct'.
For several years now, ritterwerk has exhibited paintings by the artist Beate Schüller on its premises.
In line with the company phylosophy " …at home in any kitchen" the goal was to design rooms in which people work and live their lives daily with paitings in a variety of styles.
The paintings should be an eye-catcher, creating an inviting atmosphere and perhaps even help inspire new ideas.
www.8samekunst.de
Company
Find more inspiration on
our social media channels